When your account is boarded, we create a Default Administrator. The Default Administrator is your primary user, with full privileges and access to add and manage additional users. Add additional users with the following instructions:
Log in with your default Account #, Username, and Password.
Hover mouse over Settings in the top Navigation Menu. Select Manage Users.
Click Add New User button.
Enter User Information.

Minimum User Information includes Email Address, Username, Password, First Name, and Last Name.

You must choose a password to create your user. This password is temporary, and the user will be prompted to update their password upon first login.

Choose User Permissions. To grant your user permission to specific features and transaction types, click the box next to the appropriate selection so that a checkmark appears.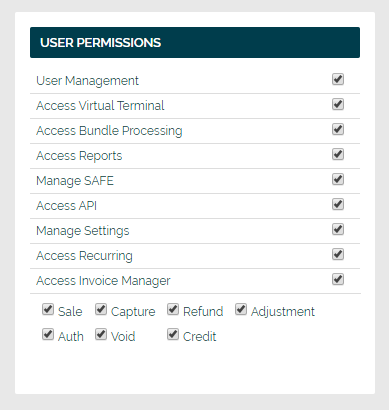 Choose User Email Notifications to determine what email notifications your user wants to receive
Select Submit to complete user creation.
Still Have Questions?
We're here to help.